Personal data
Full name: Ia Ostergren / Oia Ostergren
Date of birth: August 14, 1983
Place of birth: Sweden
Height: 178 cm
Chest: 92 cm
Waist: 60cm
Hips: 90 cm
Biography
The life of Ia Ostergren would not have attracted the women bodybuilding attention of the Internet audience, were it not for the unusual figure of the charming Swede. Long legs "from the ears" at first became the cause of school ridicule of classmates. Hard work in the gym changed her into a model, making her one of the most popular fitness bloggers on Instagram.
Childhood and youth
Ia Ostergren was born on August 14, 1983, in Sweden. As a child, she did not differ from their peers, but as a teenager, she became tall and thin. Most remarkable, she developed unusually long legs, which gave her a non-standard figure and singled out this young Swede among classmates.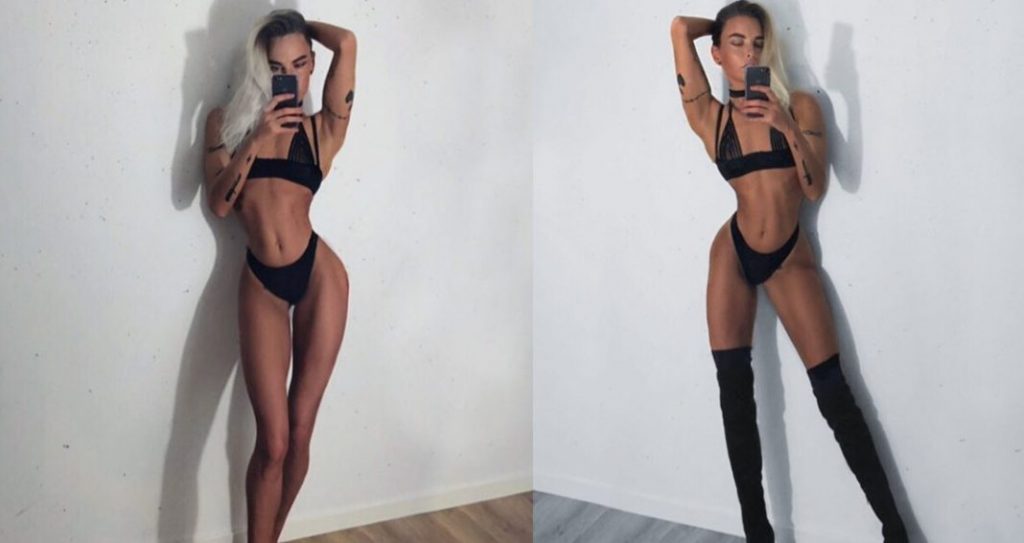 Teenagers can be cruel in their judgments and often ridicule those who are not like them and those that stand out from the crowd, whether it is unusual appearance or behavior. Ia, with her striking disproportionate physique, did not escape their ridicule. While studying, the Swede was openly mocked as a teenager. Her classmates gave her the role of "ugly duckling," a label that she couldn't easily shed. Finally, psychological pressure led to depression.
However, Ia admits that, despite everything, she continued to love herself and her body. She firmly decided to work on herself and improve what nature had given her, making it a virtue, not a flaw. The decision to go in for sports radically changed the life of this Swedish beauty.
Modeling
Professional fitness classes began for Ostergren in 2013. A year later, hard physical work began to yield results. She then decided to share the successes and wonders that sport creates with the human body, on the Net. Since 2014, she's been posting photos on her Instagram page.
She posts photos about how she formed her ideal female body. Of course, the main distinctive feature and highlight of Ia's figure is her long slender legs. Swedes are known for their attractive appearance, but Ostergren would not be different from the other numerous fitness-bloggers of Instagram, if not for her legs.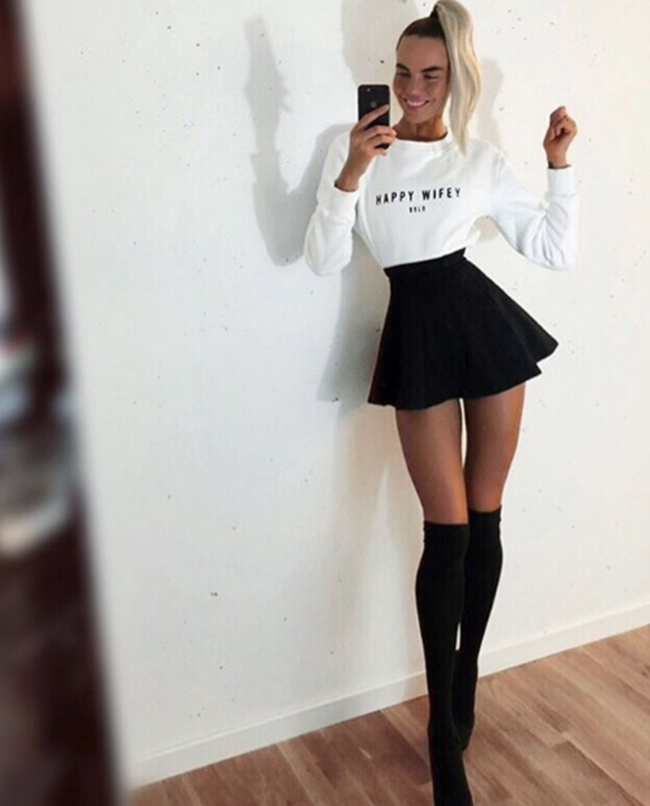 With a height of 178 cm, the length of her beautiful legs is 108 cm. Incidentally, in the world Guinness Book of Records, the title of the owner of the longest legs belongs to the Russian Catherine Lisina.  The legs of the former basketball player reach almost 133 cm. The only difference is that Lisina's height is 205.7 cm.
Compared with the record holder, Ia is shorter, but her legs are proportionately longer, making her disproportionate  in appearance.
Fitness helped the Swede achieve balance and a femininity figure. Her muscle mass increased as she grew. The waist of the beauty remained unchanged, but the hips and buttocks became more rounded and harmonized. The same applies to the arms, back, and chest. Due to the increased training, the figure of the model resembles an hourglass with endless legs.
Her unique figure and proportion did not go unnoticed. Ia, thanks to the popularity gained in social networks, builds her modeling career. She has been offered contracts with major modeling agencies in Sweden but has not yet signed. In the meantime, she's making money on the Internet because of her popularity.
Ia does not pay attention to stinging reviews. She is confident, loves her body, and is happy with the results. Ostergren says that every person is beautiful, just sometimes, to see it, one must make efforts.
Personal life
Fitness changed the personal life of the current Swedish model. Starting to gain popularity on Instagram, Ia did not suspect that this would lead to love and happy marriage. In 2014, she met her future lover – bodybuilder Torbjorn Ostergren.
The young man was overwhelmed by the sheer appearance of Ia, who in turn did not believe that such an attractive and bright man would be attracted to her and show interest. The relationship developed rapidly, and soon the couple legalized the marriage.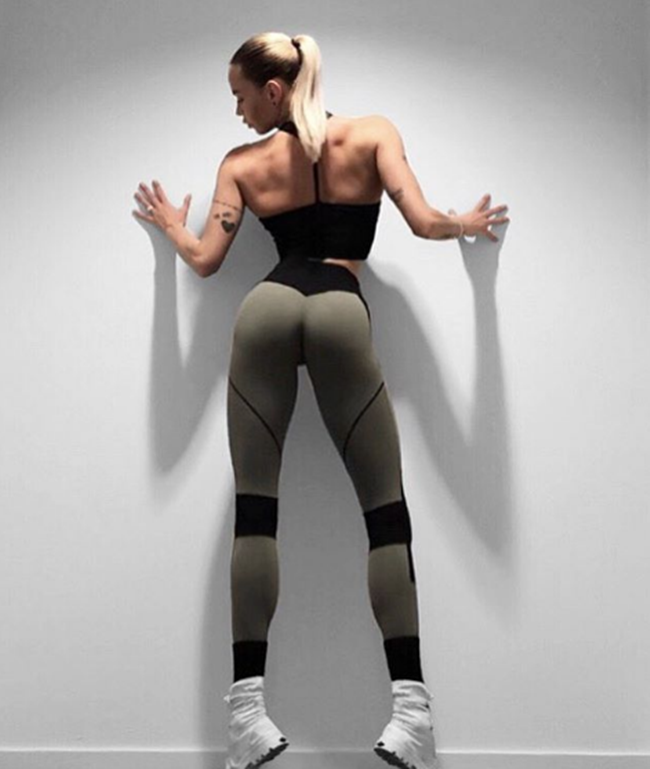 In 2016, they had their first daughter, and a year later a second. By the way, Instagram did not lose sight of her during pregnancy. As a fitness blogger, without changing habits and lifestyle, she continued going to the gym and shared photos with fans. After birth, the model published advice on how to restore your body. Torbjorn his wife work out, becoming the personal trainer of this Internet star.
Ia Ostergren now
In addition to raising children, and working on her Instagram page, she does not stop training and advises on nutrition and how to keep your figure in shape.
On her page, Ia shares that she goes to the gym daily, without days off and holidays. About nutrition, to maintain muscle mass, Ia eats 2.2 kg of meat per week.
Photos of popular long-legged women regularly appear on her page. And self and professional images are sometimes provocative, while still containing sophistication and charm. It is not surprising that the number of admirers of Swedish beauties is growing every day. Hundreds of thousands of subscribers are enthusiastically watching the life and career of Swedish models. Ia, boldy posts a direct link to her website so that everyone can help support this Instagram star.
Ia Ostergren Instagram
https://www.instagram.com/p/BfQzxDCnTGC/
https://www.instagram.com/p/BgWxDIpnZjI/
With a height of 178 cm, the length of the legs of this girl is 108 cm. This imbalance helps Ie stand out and look very impressive.
https://www.instagram.com/p/BdxliG-nABC
https://www.instagram.com/p/BbUusGAn_vX
Looking at the bold and often quite frank photographs that the model publishes on her Instagram, it is hard to believe that she had previously endured the mockery of her classmates and hated her thinness and long legs.
https://www.instagram.com/p/Bf6QlJNnHbA
For a long time, the girl struggled with depression. To feel more confident, Iya decided to do fitness and bodybuilding.
https://www.instagram.com/p/BevlSMZnDov
https://www.instagram.com/p/BbM7mD_nxGn
She shared her progress on the network. One of the posts drew attention to the future husband of the girl – the famous Swedish bodybuilder Thorbjorn Ostergren. He supported Iu and helped her to believe in herself. In 2014, Oia and Thorbjorn got married.
https://www.instagram.com/p/B6voUeIhHU0/
https://www.instagram.com/p/B6dKMKtA9iA/
After the first successes, Ia did not give up fitness classes. Moreover, the girl trains every day and continues to publish photos from the audience on her Instagram.
https://www.instagram.com/p/B4nFU15AFuk/
https://www.instagram.com/p/B2hbkVRIy_Z/
Now she is one of the most popular Swedish fitness models and bodybuilders.
https://www.instagram.com/p/B2o8j0Koo-8/
https://www.instagram.com/p/B1_zlrEI3by/
Oia Ostergren is a great example of determination and confidence. And there is nothing strange in the fact that now the model inspires people who are just starting their way to change.
https://www.instagram.com/p/B1HJqvUIR92/
https://www.instagram.com/p/By3EMYSo3Eg/
The model herself is inspired by her husband, who for Iya became not only a faithful life partner but also a coach. The couple has two children. Oia and Thorbjorn support each other in everything and teach their kids the same courage to be the best version of themselves.
https://www.instagram.com/p/B0WZ83jon10/