Helmut Strebl is a bodybuilder and fitness model. During his twenty-year career, he earned five titles in the World Miami Pro and European Championships. On the Internet, the athlete is often labeled the man with the most defined body. An excellent athletic figure with boldly sculpted muscles and perfect proportions make Strebl an ideal model of fitness.

Basic information

   Full name: Helmut Strebl
   Date of birth: 1969

Anthropometric data

»   Growth parameters: 190 cm
»   Bodyweight: 88-93 kg

Sports achievements

»   Nominated for a champion in the Miami Pro 2014
»   Winner in the category Natural Bodybuilding in Miami around 2012-2013
»   Multiple champions in the category Fitness Model over 40, Natural Muscle Model

Model class B
»   2008-2011. European Champion in Natural Bodybuilding at the FAME Competition
»   Winner of the Grabuend Classic in the nomination" Bodybuilding Rookie" 2002
»   Mr. Fitness 1998
»   Winner of the mountain biking championships 1995
»   Double champion in the UN military skills contest 1995

Helmut Strebl Biography

Helmut seriously thought about his physical training at the age of 12 years. He was lean and frail, which made him a target of ridicule and prey for bullies. At first, Helmut worked with weights to build mass and be able to protect himself. A peculiar competition with classmates led him to try fitness modeling.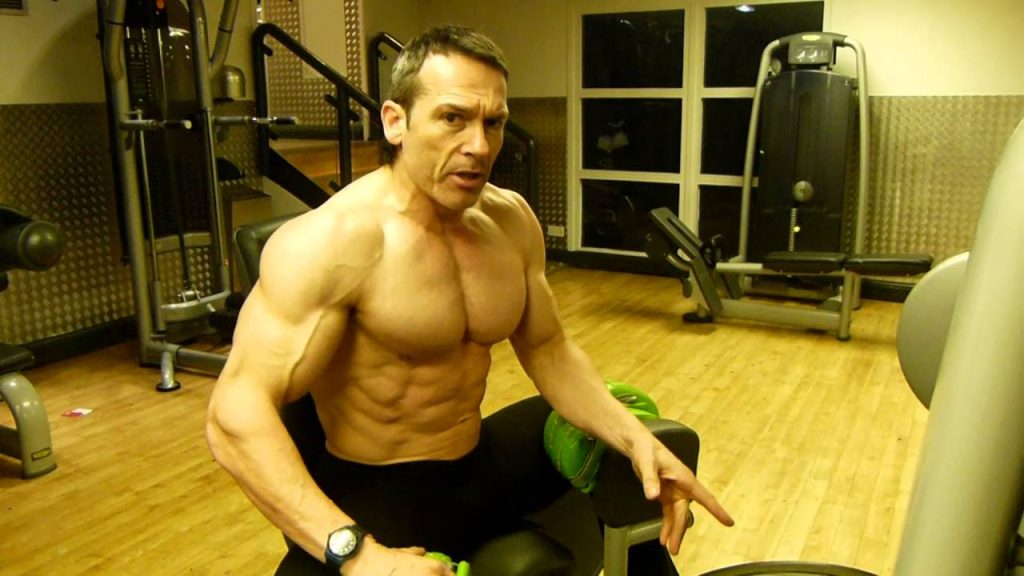 The first pieces of fitness equipment for Helmut were a couple of bottles of detergent filled with water. Homemade dumbbells weighed five kilograms. At 16, the guy finally joined the local gym.
Helmut is not only a professional athlete but also a personal instructor certified by the National Academy of Sports Medicine. The bodybuilder also finished sports massage courses and has a swimming trainer certificate. Strebel has a diploma in dietology and sports biology. The athlete often gives motivational speeches.
Training
Helmut Strebl trains 5-6 times a week. Every day is dedicated to a specific muscle group. The number of sets is 4-6, and the repetitions – 10-30 depending on the severity of the exercise. The only day off is Saturday. In a special notebook, he marks which group of muscles he pumped each day.
Back
    Basic exercise "Deadlift": 5 x 12
    Thrust block with wide grip: 4 x 12
    Traction rod in slope: 4 x 12
    Lifting on the crossbar: 3 x 12
    Thrust of the lower block: 4 x 12
    Tightening: 1 x until complete exhaustian
Thoracic muscles
    Dumbbell lift in slope: 4 x 12
    Inclined press (on the upper chest): 5 x 12
    Butterfly: 4 x 12
    Basic bench presses: 5 x 12
   Arm crossovers: 3 x 12
   Backrest tilt (on the lower part of the chest): 4 x 12
   Push-ups from the floor: 1 x until complete exhaustion.
Leg Muscles
    1.  Leg Press: 5 x 12
    2.  Sitting leg extension on the equipment (quadriceps are worked out): 5 x 12
    3.  Leg bending laying on back (hamstrings are being worked out): 5 x 12
    4.  Back kicks: 6 x 12
    5.  Squats with barbell: 4 x 12
Arms
    1.  Arm bends: 4 x 12
    2.  French press with straight or curved neck: 5 x 12
    3.  Hammers: 4 x 12
    4.  Extension of arms on the upper block (works through all three triceps): 5 x 12
    5.  Flexion of arms with a bar (straight or curved neck): 3 x 12
    6.  Extension of arms with a dumbbell from behind the head: 3 x 12
Abdominal muscles
    1.  Twisting on the crossover machine: 4 x 12
    2.  The Torso on the fitball: 4 x 12
    3.  Rise of straight legs: 4 x 12
    4.  Turning the body with a medicine ball in his hands: 4 x 12
    5.  Planks: 4 x 12
    6.  On the horizontal bar, lifting the legs: 1 x until complete exhaustion.
Training of deltoid muscles (shoulders)
    1.  Dumbbell press sitting (front beam): 5 x 12
    2.  Lowering to the sides (medium beam): 5 x 12
    3.  Lifting dumbbells in front of you (you can use the bar): 3 x 12
    4.  Shrugging the shoulders: 4 x 12
    5. The army press: 4 x 12
    6.  Arnold's wrestling posing: 3 x 12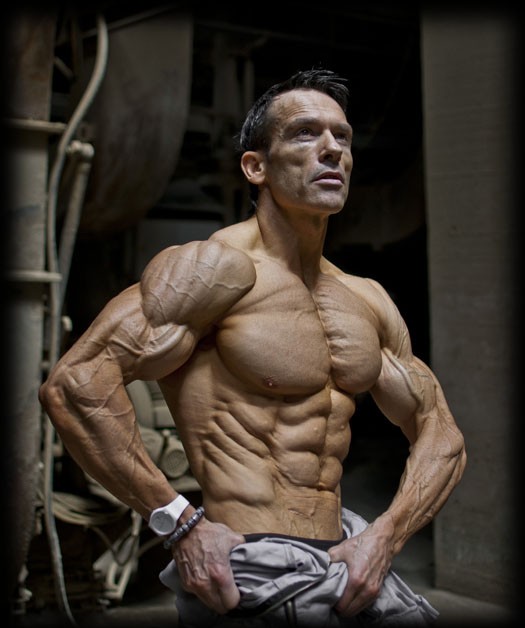 Principles of Nutrition
Fitness athlete Helmut Strebl snacks six to seven times a day. The protein is necessarily added to every meal. Most often it is an omelet, white fish, and dietary meats (turkey, chicken, rabbit, and beef). Strebel uses potatoes and brown rice to replenish carbohydrates. In the evening, the proportion of carbohydrates is less.
Four weeks before the start of the competition, Helmut gradually increases the percentage of carbohydrates in his diet. For four days Helmut Strebl brings the number of nutrients from 100 to 400 g per day and then starts the cycle anew. To reduce the body fat percentage to 4, he consumes fewer carbohydrates, but the fat content increases.
Example of a daily menu
»   Breakfast: omelette from 6-8 egg whites and one yolk, a large serving of coffee, 3 bagels with jam
»   Snack: 50 g of protein, 80 g of carbohydrates
»   Lunch: steamed rice and turkey
»   Snack: rice and boiled chicken breast
»   Dinner: rice and white meat
»   Snack: omelette from a dozen egg whites and 4 toast